What is new at Touching Well
Psychodramatic Bodywork Introduction in Stoke and in Southampton
If you're feeling stuck in a job or relationship that's no longer working for you or going around in circles with the same old negative patterns then this powerful transformative training is for you. Using emotional release work and psychodrama you will learn to unblock negative patterns which will enable you to tap into your inner spontaneity and creativity.
From this place, you can start to make the changes you need to live the life you've always wanted.
Deep personal healing does occur because it's an experiential workshop, but it is not a therapy group. Members will need significant support at various times during and after the workshop to complete and integrate what was begun in the workshops.
When: Friday 27th, Saturday 28th, Sunday 29th March 2020
Times: 9am – 5pm each day.
Where: Torus Wellbeing Clinic, 24 Cemetery Road, Shelton, ST4 2DL
Cost: £180 for 3 days – concessions are available on request.
For further information or to book your place contact Nicola Brough on 01782 273314 or info@toruswelllbeingclinic.co.uk or Jonathan Salisbury jfhs2844@gmail.com or 07875 321108.
There are two Psychodramattic Bodywork workshops in Southampton:
8th to 10th May 2020 for Intro
25th to 27th September for Intermediate
Contact Jonathan Salisbury (07875 321108 or jfhs2844@gmail.com) for more information.
Psychodramatic bodywork was developed by Susan Aaron (https://www.youremotions.com/) in Canada.
---
Regina is a magician.
She knows the body, very well including the nerves, tendons and ligaments. She can tell you what is causing the issue by feeling it. She really gets deep down to treat the issue which is unbelievable hence me using the word 'magician'
5 years ago I had a car accident resulting in whiplash to my upper and lower back, which was left untreated, resulting in the discomfort radiating out to my shoulder. After 8 physio, 12 chiropractor and 24 osteopathy treatments only my lower back was better. The other issues were just getting worse over time.
Regina used a combination of techniques including myofascial release to give me 24 hours of nearly complete comfort after the first session, which was absolute bliss, something I'd not had for 5 years. Absolutely amazing.
She always asks if your comfortable so she is applying the correct pressure for you.
I have been going once sometimes twice a week since December and will continue to go for maintenance once my neck and shoulder are back to pre accident comfort.
If you have persistent issues where other treatments have failed you, I suggest giving Regina a try. I hope it helps as much as it has me. Can't recommend her enough.
Natalie Neale, Melton
---
Massage at an annual Health Fair
Thank you for inviting us to your annual staff welfare event. It was a most enjoyable day for us practitioners, and judging from the feedback, for the employees, too. Between us we did more than 60 massages.
The picture shows us practitioners, Andrea Duncan, myself and Charlotte Sutcliffe, after giving 60 massages.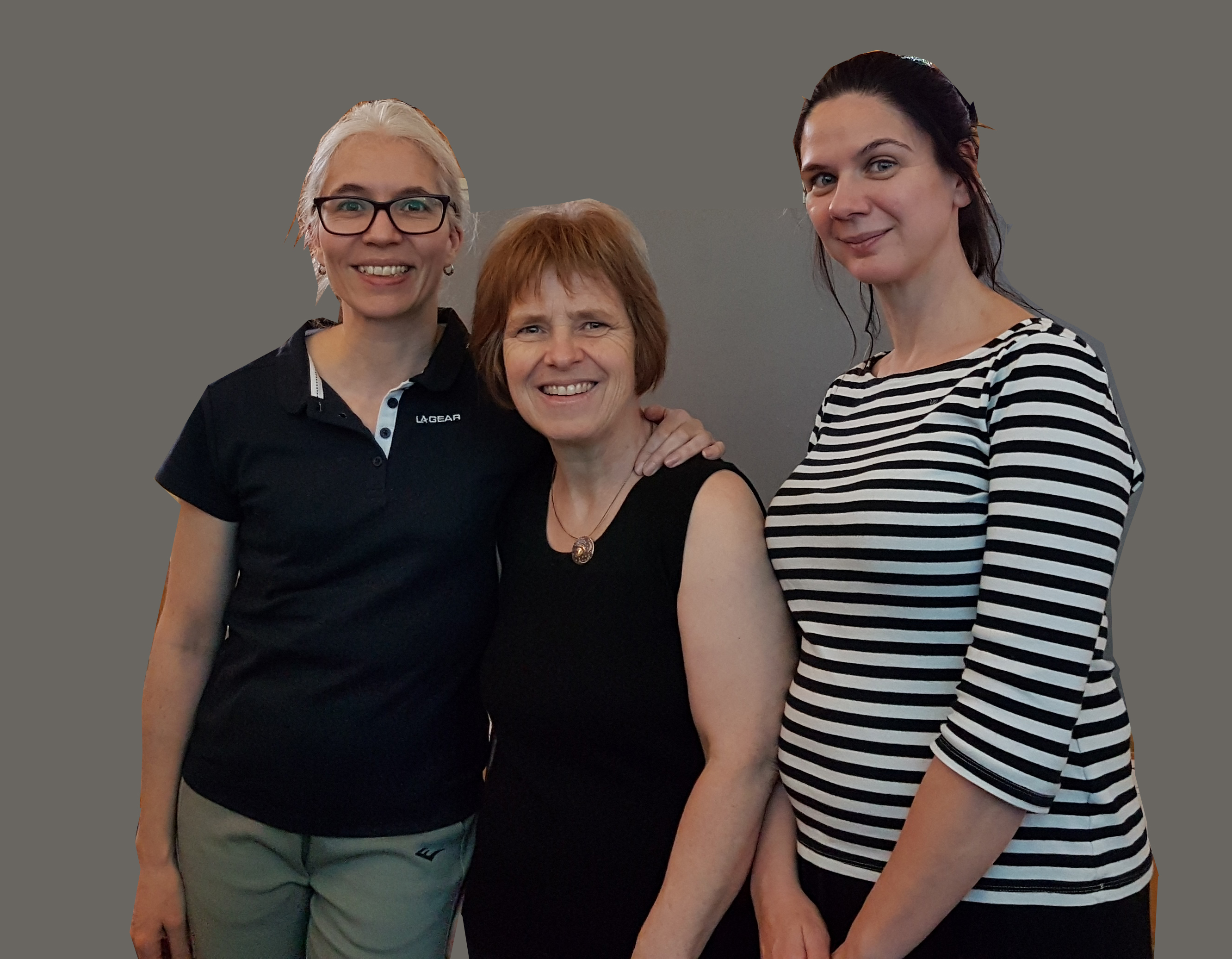 Really helpful with sorting out tension in my neck and upper back.
Excellent massage one again. Lovely way to start the day. Would defini9tely recommend to anyone.
Fantastic massage. Eased muscular tenderness.
Wonderful massage. Helped my back a lot.
Absolutely fabulous. Thank you for the massage and advice.
Excellent massage and thank you for the advice.
Great massage and very relaxing.
Excellent. Shame we cannot have them every week. Lovely and relaxing.
Amazing experience. Lovely and relaxing.
Excellent massage and advice on increasing muscle strength in my arm.
Relaxing and wonderful massage. Much appreciated.
Loved this. Need more of this in my life!
Really rejuvenating and stress relieving.
Fantastic - Amazing - Thank you.
Wow! This was a welcomed treat. Andrea was lovely and put me at ease straight away. Pressure was perfect.
Fab massage. Felt much more relaxed in shoulders, and looser.
Absolutely lovely massage - could have fallen asleep. Now I feel very refreshed.
Really amazing. I feel very relaxed and energised. My shoulder, which has been in pain, feels so much looser. Thank you.
Very relaxing and calming experience. I would have one of these massages every day if I could. Thank you - and well done for arranging.
Nice and relaxing. Attendance to painful areas. Thank you.
Relaxing and calming massage. I would definitely benefit from this massage regularly.
Lovely treat on a working day. Very relaxing and informative. Thank you.
Relaxing. Helped me with my sore neck. Thank you.
Really enjoyed the massage. Thank you very much. Professional service.
Fabulous. Really enjoyed the massage.
That was a beautiful and relaxing massage. Thank you.
Thank you. Very relaxing. Just what I needed.
Restorative. Thank you so much.
Really relaxing. I already feel much better. Great service.
Really relaxing, good advice and very friendly.
Loved the massage. Felt great afterwards.
Loved the massage, I feel totally different from before I came.
The massage was beautiful. Very relaxing and soothing. I really appreciated it.
Good strong hands. Perfect to loosen the knots from a day at the desk.Very relaxing. I feel amazing afterwards.
Enjoyed the massage today. It released tension and was invigorating.
Very much enjoyed the massage today. I left relaxed and more flexible. Thank you very much. I would recommend.
Was lovely and relaxing and found all the knots.
I feel taller and aligned. Thank you.
Was very relaxing. I could feel the tension leaving me.
---
Wishing you a great weekend
It is possible that the formating went a little bit haywire. If it did, I apologise, I don't know how to remedy this.
I look forward to seeing you.
With warm regards,
Regina
---
Issue 31a of the Massage Message: February 2020.
Regina Dengler
Touching Well
0115 8457113
regina @ touchingwell.co.uk
touchingwell.co.uk
facebook.com/TouchingWell
---