Continued Professional Development (CPD)
I really enjoy training, it keeps me enthusiastic and informed. I do lots more than the recommended two days of Continued Professional Development (CPD) per year. I am required to update my skills in the management of lymphoedema and MLD every other year, due next in the Summer of 2024. I have recently trained as a supervisor.

---
You can reach Touching Well by mobile: 0794 227 6538, or via our new landline 0115 648 9636, or the contact form.
Please could new clients complete my Initial Screening form.

Stay mobile and sane. Hope to see you soon.
With warm regards, Regina

---
The Fascial Pelvis in November 2020, The Fascial Spine in March 2021 and The Fascial Foot in 2022 organised by The Fascia Hub. Seminar on stretching with John Shakey in March 2023.

On-line massage conference with Jing Advanced Massage Training in June 2020 and Advanced Clinical Massage Techniques.
British Fascia Symposium in May 2020. Due the pandemic it was on-line from 15th to 19th May.

Osteopathic techniques: sport and spine with Cameron Reid in September 2019. Organased by the FHT.
Chapmans Reflex Course with Paula Nutting, Your Muscularskeletal Specialist, in May 2019.
Myofascial Dry Cupping Therapy: approved CPD course in February 2019 with Dawn Morse MSc from Core Elements Training.

Two day workshop in Fascia Manipulation for Nerves with Steven Goldstein at Jing Advanced Massage Training in May 2018.

Diploma in Hot and Cold Stone Massage at Gateway Workshops Ltd with Liz Knight in August 2017.

Certificate in Advanced Myofascial Release with Jing Advanced Massage Training from 3-11 May 2016. Master Classes in Unwinding, Fascial Positional Release, Myofascial Stretching and "Treating caesarean, hysterectomy and mastectomy scarring with myofascial release and other magical moves."
Arvigo Techniques of Maya Abdominal Therapy: Advanced Pregnancy Training with Rosita Arvigo in March 2015. Certification with Rosita Arvigo and Diane McDonald in May 2014. Professional training with Hilary Lewin in November 2013 and Level One - Self Care - in February 2013 with Louise Crockard. Assisted in Self Care Training with Jackie Beswick in 2016.
Love your guts seminar with Marty Ryan in April 2013.
Refresher with Wouter Hoelen at the European College for Lymphology De Berekuyl in October 2018.

Attended Refresher at the Földischule in November 2014 and October 2016.

Attended MLD-UK Conference in May 2018, 2017, 2014 and 2012
Casley Smith Manual Lymphatic Drainage and Lymphoedema bandaging update course wtih Susan Desborough at the St Giles Hospice Macmillan Lymphoedema Academy in September 2012.
First Casley Smith International Conference. Master classes in Lymphoedema. October 2010 in Holland.
Five day update in lymphoedema management and MLD at the Foeldi Klinik (Nov 08).

British Lymphology Conference in Oct 06 & Sept 05 Refresher in Lymphoedema Management (Nov 06).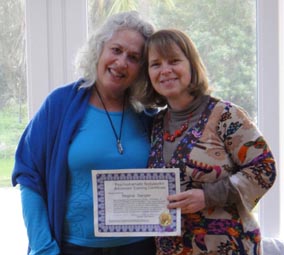 Advanced training in Psychodramatic Bodywork - 4 modules of 5 days - 2008-2011. More than 40 days of assisting in Introductory and Intermediate levels of  Psychodramatic bodywork training in England, Scotland and Moscow. Yearly Grad group from 2012 - 2019.
Tsuboki face massage with Anne Parry - May 2010.
2 day training in Aromatherapy Lymphatic Massage with Lotte Rose in June 2009.
Massage and bodywork for women with high-risk pregnancy - 1 day - 2009.
Massage for the postnatal mother
- 4 days and case studies - 2008
Diploma in Massage in Pregnancy with Distinction (2006)
Massage during labour - 4 days - Sept 09
21 days training in NO HANDS Massage (2000- 2007). Enrolled in the NO HANDS mastery program in 2007.
I have done a lot of training with the No Hands Massage company, and earned the title Registered No Hands® Practitioner, however, I am not allowed to call myself that. So I changed No Hands Massage to Saving Hands Massage.
NVQ level 3 in Indian Head Massage (2006)
Introduction to Marnitz Therapy in June 2005
Pulsing with Guy Gladstone (1991).
Mehta Method of Therapeutic Head Massage (1997).
Postural Integration with Silke Ziehl (1990-1992).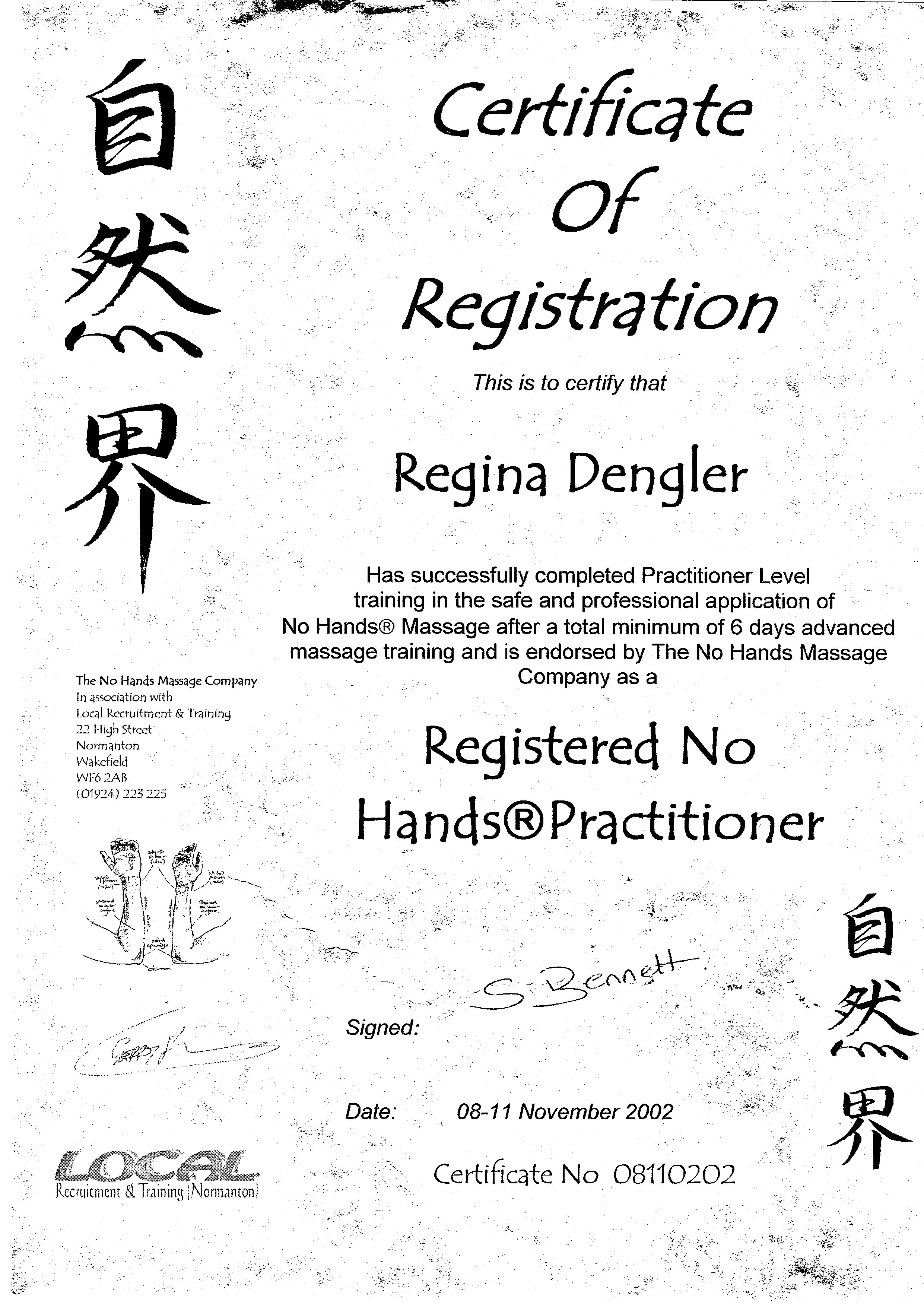 City and Guilds 7307 teacher training qualification (2000).
Qualified nursery nurse (3 yr training in Germany – Erzieherin)
MSc in Social Statistics from the University of Southampton(1991).
---
You might also be interested in:
or go back to the home page.


---
---
List of treatments
- Myofascial Release (MFR) - Saving Hands massage -
- Therapeutic massage - Maya Abdominal Therapy -
- Seated Acupressure - Indian Head Massage - Pulsing - Reiki -
- Reflexology - Tsuboki Foot Massage - Hopi Ear Candles -
- Hot and Cold Stone Massage - Myofascial dry cupping -
- Aromatherapy Massage - Aromatherapy Lymphatic Massage (ALM) -
- Fertility Massage - Pregnancy Massage - Post-natal Massage -
- Dorn Method - Breuss Massage -
- Manual Lymphatic Drainage (MLD) - Deep Oscillation -
 - Treatment for lymphoedema - Treatment after cosmetic surgery -
- Holistic Facial - Face Vitality - Total Detox -
 - Virtual sessions - Supervision

---