Myofascial Release
Myofascial release (MFR) is awesome. That is what I came away with from my intensive MFR training. It is also the word (over)used by one of our wonderful trainers. Other popular words were s words, such as splendid, super, safe, spontaneous, succulent, special, sublime, serene.
"Got up this morning with a pain free back in over a decade."
Jane after one session of MFR.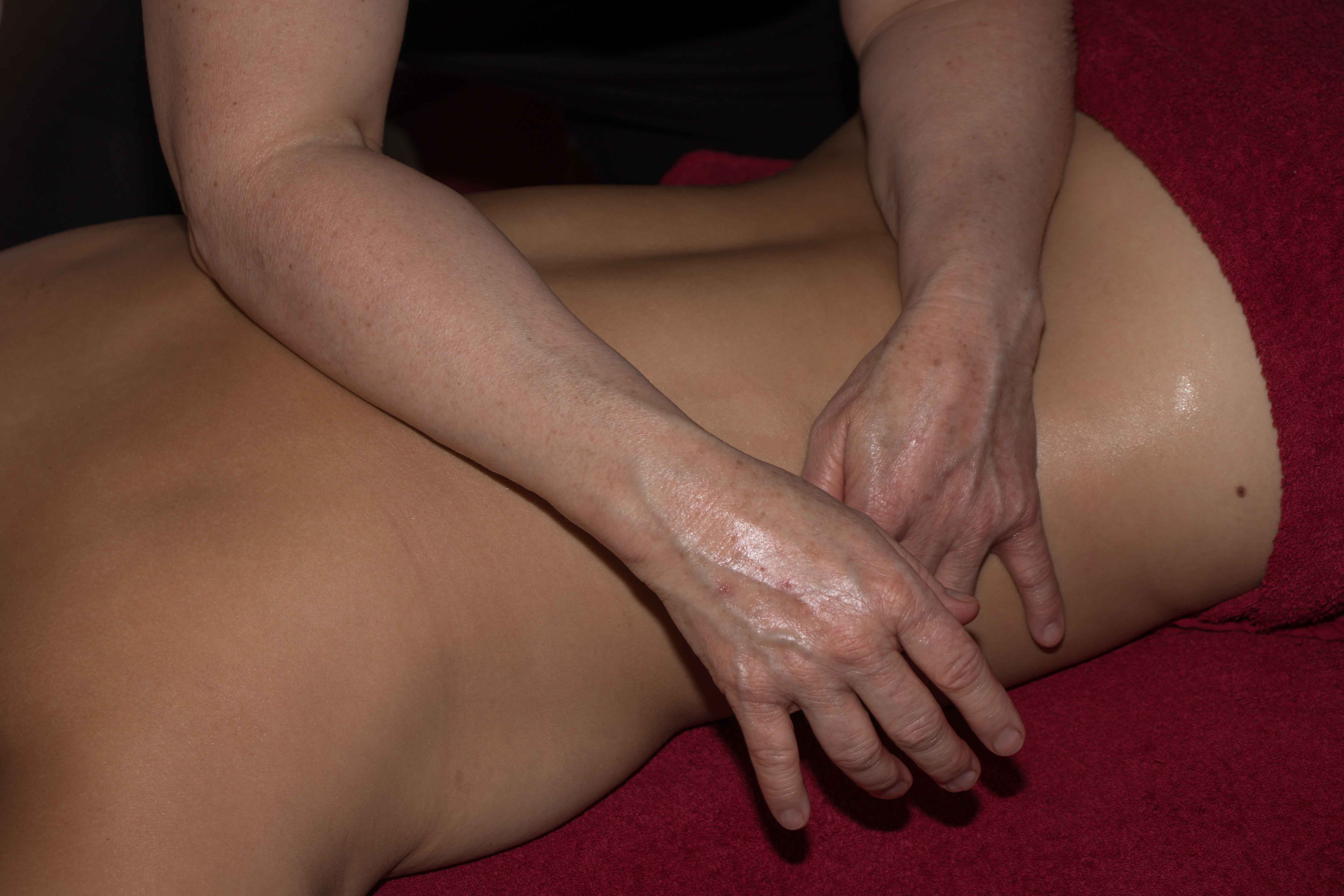 ---
We are following government instructions on physical distancing so we can't see clients at the moment.

We are happy to give support and advice using phone, email or Skype.
Keep in touch (metaphorically).
Stay safe. With warm regards, Regina
What is Myofascial Release?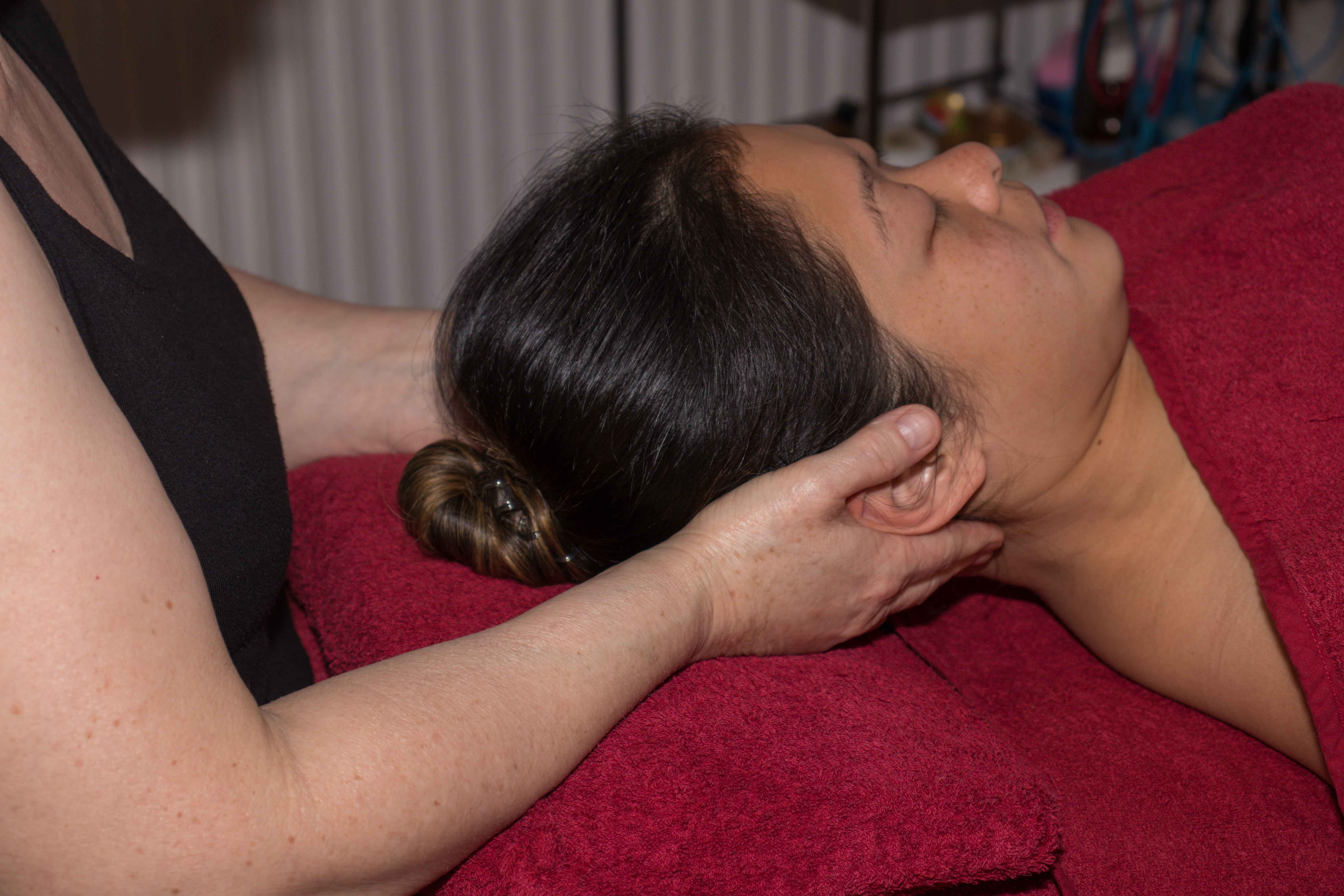 Myofascial Release is a safe and very effective hands-on technique. It involves applying gentle sustained pressure into the myofascial restrictions to eliminate pain and restore motion.
"I could even feel my organs relaxing"
Hazel, Beeston, Nottingham
What is Myofascia? 
Deep fascia surrounds our muscle bellies, holding them together and separating them into functional groups. It also fills the spaces between muscles and, like deep fascia, carries nerves, blood and lymph vessels. Portions of deep fascia penetrate into the muscle belly and encase each tiny muscle fibre.
'Myo' means muscle and 'fascia' means band. Myofascia (pronounced "my o faashaa") is dense tough tissue that surrounds and covers all our muscles. Fascia is acontinuous sheet of fibrous membranes located beneath our skin, surrounding all our muscles, bones and organs. There are two types of fascia, superficial and deep.
Superficiall fascia is below the skin and covers our entire body. It is often perceived as a thin layer, but superficial fascia has layering containing adipose tissue (fat), blood and lymph vessels, nerves and connective tissue. Its density varies from very thin, for example at the top of our hands, to quite thick as in the soles of our feet.
A example of myofascia would be when you remove the skin from a chicken breast, that white filmy tissue underneath the skin is myofascia and in a living state is very strong.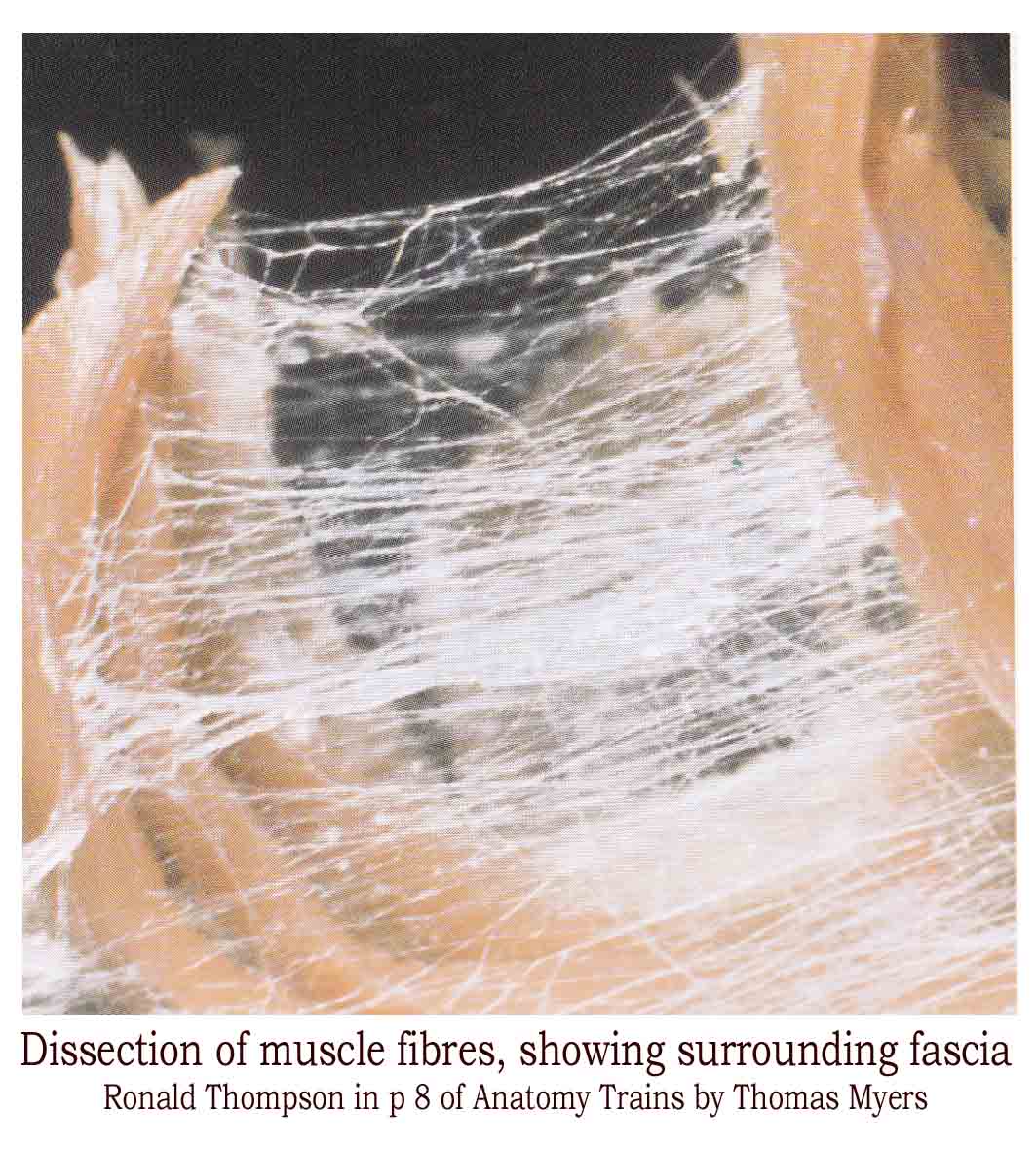 Under a microscope myofascia resembles a spider web or fish net. In a healthy state it is organized and flexible, relaxed and waxy in configuration. It can best be described as a complete body suit which runs from the top of your head down to the bottom of your toes. It is continuous and has no beginning or end and can be found almost everywhere in our bodies.
Like yarn in a sweater our entire body is connected to every other part of our body by the fascia. It is a continuous weave of material. And like a pull in a sweater, damage to an area of myofascia can effect other distant areas in our body even years later.
When we experience trauma, scarring, or inflammation, the fascia loses its pliability. It becomes tight, restricted, and a source of tension (apparently tensile pressures of approximately 2,000 pounds per square inch on pain sensitive structures) to the rest of the body, a bit like a sweater that sticks to our skin in some areas and is matted with blobs of dried paint in other places (not a nice thought). The good news is that MFR can un-stick our fascia, stretching and gently easing, encouraging us to move more freely.
A fascinating insight into fascia is on Gill Headly's videos. Pioneers of MFR are John Barnes and Ida Rolf.
"Over and over again, people come to me, and they tell me, You just don't know how strong I am. They say "strength" and I want to hear "balance". The strength idea has effort in it; this is not what I'm looking for. Strength that has effort in it is not what you need; you need the strength that is the result of ease." (Ida Rolf)
Tom Myers has developed  Ida Rolf's ideas and applied them in his Anatomy Trains.

I have trained in a combination of these approaches, using both direct and indirect techniques. Common to all bodywork, but particularly to MFR, is to "listen to the tissues".
You can email me via the contact form or phone me on 0115 845 7113. If you have any questions or would like to discuss something in particular, then please feel free to get in touch.
I look forward to hearing from you.
Regina
---
P.S. You can also visit "Your Massage Questions" to ask any questions or read other people's questions.

P.P.S. And if you have a story you'd like to share why not visit "Your Massage Stories". You'll also find other people's stories to enjoy.
P.P.P.S. To find out interesting massage related "bits and bobs" please subscribe to the Massage Message in the top of the right column.


---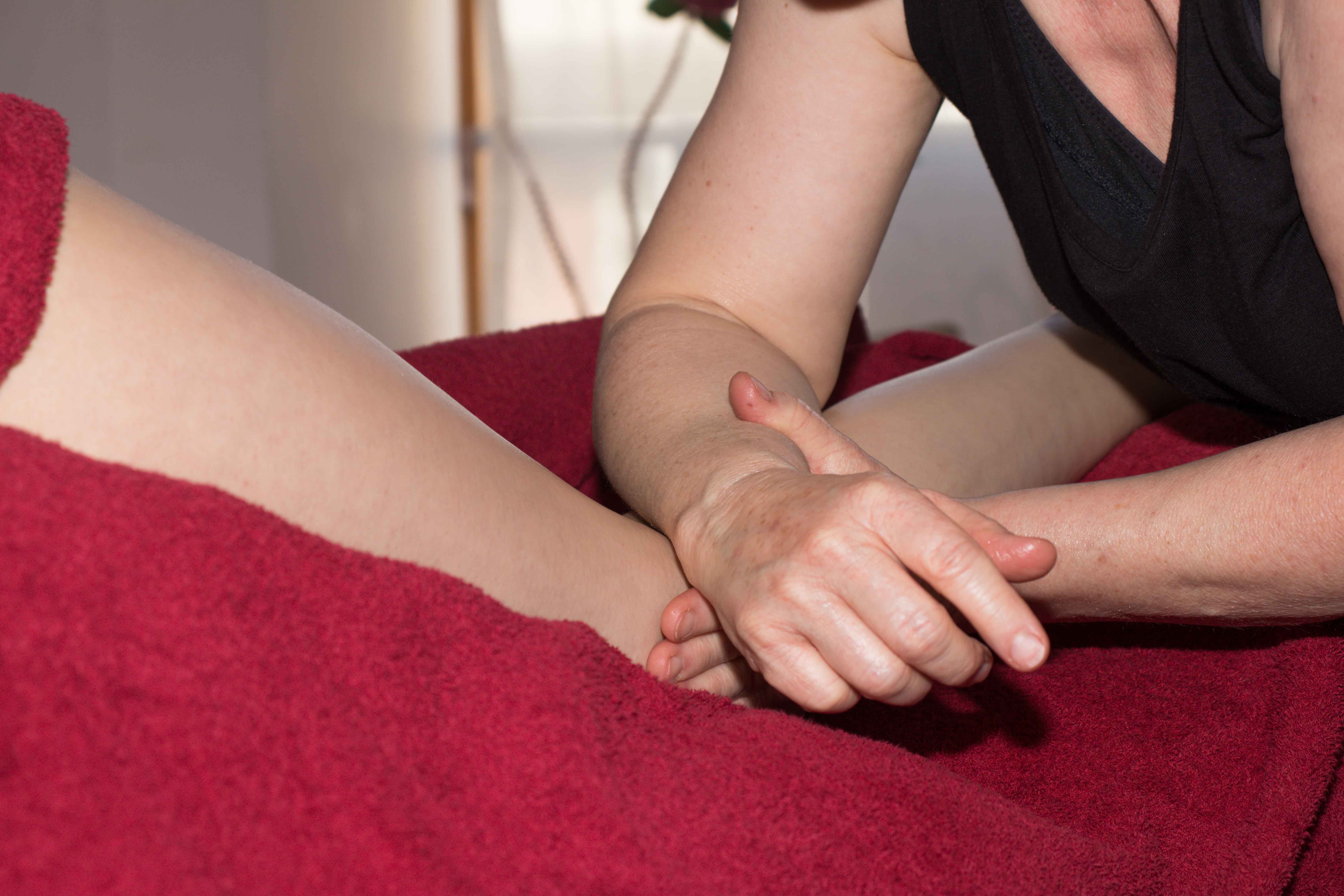 Special offer
Three sessions of Structural Integration, each lasting up two hours.

balancing the legs

balancing the pelvis
balancing torso and ribcage

Each session individually cost £70, booked as a course of three, the charge is £180.
List of treatments
- Myofascial Release (MFR) - Saving Hands massage -
- Arvigo Techniques of Maya Abdominal Therapy® - ATMAT -
- Seated Acupressure - Indian Head Massage - Pulsing - Reiki -
- Reflexology - Tsuboki Foot Massage - Hopi Ear Candles -
- Hot and Cold Stone Massage - Myofascial dry cupping -
- Aromatherapy Massage - Aromatherapy Lymphatic Massage (ALM) -
- Fertility Massage - Pregnancy Massage - Post-natal Massage -
- Dorn Method - Breuss Massage -
- Manual Lymphatic Drainage (MLD) - Deep Oscillation -
- Holistic Facial - Face Vitality - Total Detox -
---