Do you have a question that you'd like answered?
It doesn't matter whether you are a Touching Well client already or not. In fact it doesn't even matter where you live in the world. Everyone is welcome to ask a question!

Questions asked via this page will be available for other visitors to read. In this way the whole community is able to benefit from both your question and the answers.
(Of course, if you have a question that you do not feel comfortable sharing, then please contact me privately via the Contact Page.)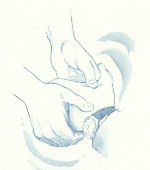 ---
You can reach Touching Well by mobile: 0794 227 6538, or via our new landline 0115 648 9636, or the contact form.
Please could new clients complete my Initial Screening form.

Stay mobile and sane. Hope to see you soon.
With warm regards, Regina

---
The other advantage of sharing your question in this way is that other visitors are also able to add their own comments to both your question and the answer. (For your peace of mind I always check any comments before they go live so there is never any chance that inappropriate comments will appear.)
This means that you can end up receiving answers and support from the wider community. This may well provide you with an extra "nugget" of information that proves priceless to you.

If you'd like to read other visitor's questions that have already been added to this page or add your own comments, then simply click here. It's a great way to join in and feel part of this wonderful community.

Asking your question couldn't be easier.
If it's something you've not done before you'll be amazed at how easy it is! If you know enough to have found this site on the internet, you already have all the skills you need to add your own question. You only have to share the information you choose to share and it's up to you whether you reveal your name or location.

All you need to do is fill in the simple form below and then your question will be available for all to benefit from. Simply:

Enter a title for your question
Use the box provided to write your question
Add a photo if you'd like to (clicking "Browse" allows you to add a photo from your computer)
Include your name and location (completely optional)
Enter the code you see
Tick the box to agree to the submission guidelines
Click "Submit Your Question" (you get a chance to preview and edit it on the next page)
Then you're done!
Below the form you will find questions that have been asked by other visitors. If you would like to read any of them and/or add your own comments simply click on the title of the one you are interested in.

So why not join in today and add your own question. We look forward to hearing from you.
Please ask your massage question
by competing the form below. I will answer it as soon as possible. If you would like a personal answer (rether than on a web page) please use the contact form.
Questions Other Visitors Have Asked
Click below to see contributions from other visitors to this page...

Location, location, location
Where are you based ? Graham. Hi Graham, I am based on Carlton Hill in Nottingham, about 2 miles from The Park, and easy bus ride on the lilac line. …
---
List of treatments
- Myofascial Release (MFR) - Saving Hands massage -
- Therapeutic massage - Maya Abdominal Therapy -
- Seated Acupressure - Indian Head Massage - Pulsing - Reiki -
- Reflexology - Tsuboki Foot Massage - Hopi Ear Candles -
- Hot and Cold Stone Massage - Myofascial dry cupping -
- Aromatherapy Massage - Aromatherapy Lymphatic Massage (ALM) -
- Fertility Massage - Pregnancy Massage - Post-natal Massage -
- Dorn Method - Breuss Massage -
- Manual Lymphatic Drainage (MLD) - Deep Oscillation -
 - Treatment for lymphoedema - Treatment after cosmetic surgery -
- Holistic Facial - Face Vitality - Total Detox -
 - Virtual sessions - Supervision

---