If you only got a minute
Sometimes we don't really have time but are in discomfort, for example our upper back starts to ache. Here are safe "emergency" exercises if you don't have much time.

---
We offer treatments for medical conditions only.
We are legally permitted to offer sessions during this lockdown for treating clients with medical conditions. Please consider if your treatment is urgent and necessary, or if you can wait until the case numbers are lower.

We are structuring sessions for you to have the best (and safest) experience under the current restrictions. You will need to complete the Corona Virus Screening form. Virtual sessions are also available.
Stay safe and sane. With warm regards, Regina

---
Upper back
Find a firm surface, such as a carpet or yoga matt and lie on your back, head supported and knees bent, lower back "in neutral". Your upper back might ache when you initially lie down. Now wait. Usually the ache goes within a minute or so. You might have to repeat this at regular intervals.

Lower back
This is my "go-to" exercise for the lower back. It is safe and nicely stretches your lower back.

Sit on the edge of your seat with your feet flat on the floor. A lower seat works better, such as your bed or a sofa. Bend forwards. You may need to move your legs apart. Now relax and breathe, let everything become heavy. You will feel a lovely stretch in the lower back. Once you feel looser, you can experiment with moving your torso to one side, again resting and waiting, and then the other side.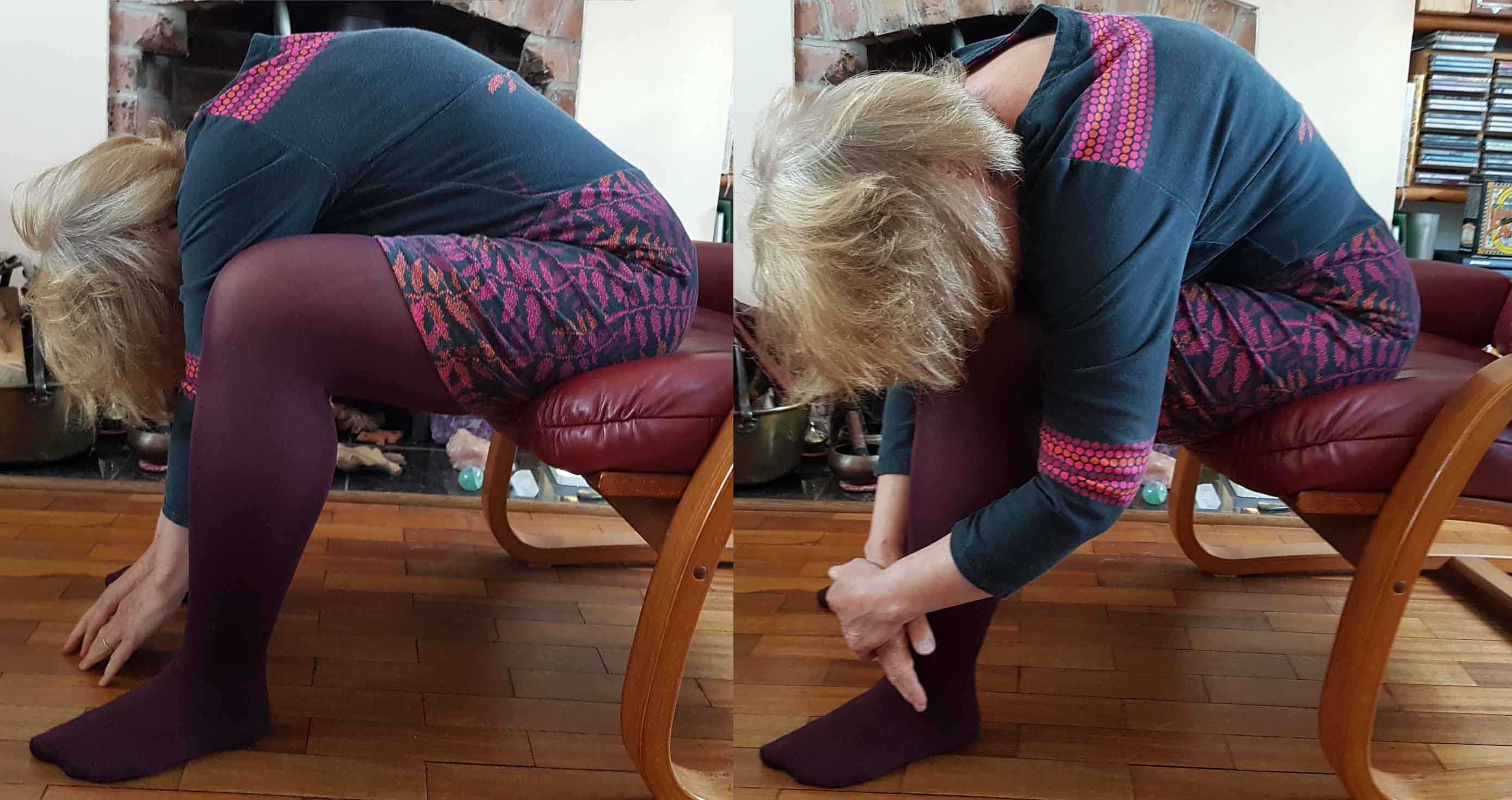 ---
List of treatments
- Myofascial Release (MFR) - Saving Hands massage -
- Arvigo Techniques of Maya Abdominal Therapy® - ATMAT -
- Seated Acupressure - Indian Head Massage - Pulsing - Reiki -
- Reflexology - Tsuboki Foot Massage - Hopi Ear Candles -
- Hot and Cold Stone Massage - Myofascial dry cupping -
- Aromatherapy Massage - Aromatherapy Lymphatic Massage (ALM) -
- Fertility Massage - Pregnancy Massage - Post-natal Massage -
- Dorn Method - Breuss Massage -
- Manual Lymphatic Drainage (MLD) - Deep Oscillation -
 - Treatment for lymphoedema - Treatment after cosmetic surgery -
- Holistic Facial - Face Vitality - Total Detox -
 - Virtual treatments -

---