5 things every GP should know about lymphoedema
Lymphoedema is a chronic and permanent swelling which can affect any area of the body, most commonly affecting the limbs. It can impact on a person's body image, self-esteem and cause not only physical, but emotional distress as well.
The list below is by no means a definitive or finite description of lymphoedema and is to be used as a guide only.
---
We are following government instructions on physical distancing so we can't see clients at the moment.

We are now offering on-line sessions. We can do everything apart from the actual treatment on-line, obviously virtual touch is not quite the same. We can cover self-help techniques, such as stretches and self-massage. Many issues are eased by a chat and a few stretches.
Check out Touching Well's top tips.

Keep in touch (metaphorically).
Stay safe. With warm regards, Regina
---
1 Causes
Primary – Hereditary, Congenital
Secondary – Many Cancers and their treatments, Venous disease, Immobility, Injury, Filariasis
2 Treatment
Skin care – daily inspection,washing and moisturizing of skin.
Exercise and maintenance of mobility.
Compression garments / multi-layer lymphoedema bandage.
Simple /

Manual Lymphatic Drainage

Referral to specialist clinic
3 Complications
Cellulitis
Lymphorrhoea
Skin changes
Skin folds
Social/Psychological impact – lowered self-esteem, difficulties at work, finding clothes etc
4 Risk Factors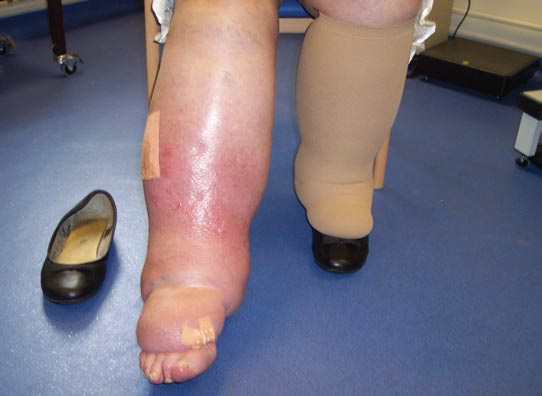 Lymph node removal: irradiation increases the risk
Venepuncture or blood pressure on at risk or oedematous limb
Wounds
5 Medication
NONE – condition requires self management and specialist support

Diuretics only if patient has cardiac history
Antibiotics as per

Consensus Document for Cellulitis

Pain control – need to identify cause of pain
This was first published by the by the British Lympholgy Society (BLS). There is a free BMJ learning module on lymphoedema available to healthcare professionals.

---
You might also be interested in:

---
---
List of treatments
- Myofascial Release (MFR) - Saving Hands massage -
- Arvigo Techniques of Maya Abdominal Therapy® - ATMAT -
- Seated Acupressure - Indian Head Massage - Pulsing - Reiki -
- Reflexology - Tsuboki Foot Massage - Hopi Ear Candles -
- Hot and Cold Stone Massage - Myofascial dry cupping -
- Aromatherapy Massage - Aromatherapy Lymphatic Massage (ALM) -
- Fertility Massage - Pregnancy Massage - Post-natal Massage -
- Dorn Method - Breuss Massage -
- Manual Lymphatic Drainage (MLD) - Deep Oscillation -
- Holistic Facial - Face Vitality - Total Detox -
---