5 things every GP should know about lymphoedema
Lymphoedema is a chronic and permanent swelling which can affect any area of the body, most commonly affecting the limbs. It can impact on a person's body image, self-esteem and cause not only physical, but emotional distress as well.
The list below is by no means a definitive or finite description of lymphoedema and is to be used as a guide only.
---
You can reach Touching Well by mobile: 0794 227 6538, or via our new landline 0115 648 9636, or the contact form.
Please could new clients complete my Initial Screening form.

Stay mobile and sane. Hope to see you soon.
With warm regards, Regina

---
1 Causes
Primary – Hereditary, Congenital
Secondary – Many Cancers and their treatments, Venous disease, Immobility, Injury, Filariasis
2 Treatment
Skin care – daily inspection,washing and moisturizing of skin.
Exercise and maintenance of mobility.
Compression garments / multi-layer lymphoedema bandage.
Simple /

Manual Lymphatic Drainage

Referral to specialist clinic
3 Complications
Cellulitis
Lymphorrhoea
Skin changes
Skin folds
Social/Psychological impact – lowered self-esteem, difficulties at work, finding clothes etc
4 Risk Factors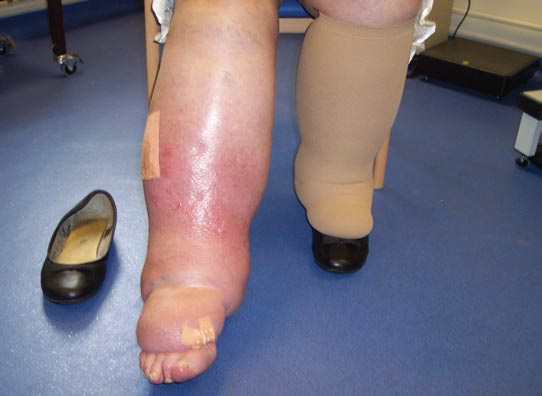 Lymph node removal: irradiation increases the risk
Venepuncture or blood pressure on at risk or oedematous limb
Wounds
5 Medication
NONE – condition requires self management and specialist support

Diuretics only if patient has cardiac history
Antibiotics as per

Consensus Document for Cellulitis

Pain control – need to identify cause of pain
This was first published by the by the British Lympholgy Society (BLS). There is a free BMJ learning module on lymphoedema available to healthcare professionals.

---
You might also be interested in:

---
---
List of treatments
- Myofascial Release (MFR) - Saving Hands massage -
- Therapeutic massage - Maya Abdominal Therapy -
- Seated Acupressure - Indian Head Massage - Pulsing - Reiki -
- Reflexology - Tsuboki Foot Massage - Hopi Ear Candles -
- Hot and Cold Stone Massage - Myofascial dry cupping -
- Aromatherapy Massage - Aromatherapy Lymphatic Massage (ALM) -
- Fertility Massage - Pregnancy Massage - Post-natal Massage -
- Dorn Method - Breuss Massage -
- Manual Lymphatic Drainage (MLD) - Deep Oscillation -
 - Treatment for lymphoedema - Treatment after cosmetic surgery -
- Holistic Facial - Face Vitality - Total Detox -
 - Virtual sessions - Supervision

---